22 min read.
This is more than just another review. Based on twenty years of sending emails, I landed on ConvertKit, a tool I can't recommend highly enough. While not perfect, I believe ConvertKit is the best email marketing platform for creators (for reasons I unpack in this review). Enjoy.
I've been using ESPs (email service providers) for twenty years, since 2003, to do business and build relationships with my audiences. (Yup, I'm one of those lesser spotted dinosaurs.)
Like modern-day soothsayers and "prophets," people have been purporting the "death of email" for more years than I can count, as each new social media platform or novel communication service enters the playing field every few years. Yet email trudges on unscathed, remaining the most impactful marketing method in history by orders of magnitude.
If it's not already obvious, email is not going anywhere.
Why?
Well, I have some ideas. But we need to briefly step back in time for context.
A Digital Renaissance: The Undying Power of Email
The first ever email was sent in 1971 by Ray Tomlinson. I wasn't even born yet. Nor was the internet. (Go, Ray!)
ARPANET adopted TCP/IP on January 1, 1983, and from there, researchers began to assemble the "network of networks" that became the modern internet. The online world then took on a more recognizable form in 1990, when computer scientist Tim Berners-Lee invented the World Wide Web. (Go, Tim!)
A year later, I finished high school.
By design, email is part of the fabric of the internet.
It's a set of application layer protocols (SMTP for sending and IMAP and POP3 for receiving) that run on TCP/UDP — the transport layer of the internet used for data delivery.
I say this not to sound "geeky"1 but to draw attention to an important insight.
Email is a protocol that's "hardcoded" into the transport layer of the internet. It's not a platform like Facebook, Instagram, YouTube, TikTok, Discord, Telegram or Signal, etc., all of which run on top of the internet and owned by private or public corporations.
There are no corporate owners of email.
Not even nation-states.
It's free. Essentially a digital commons.2
You own the asset.3
Within reason, you decide how to operate, what to write and to whom.
The magic of email allows us to connect directly to the inboxes of our fans and customers without requiring a third-party platform or service.
This direct connection enables continuous relationship-building in a way that isn't possible on social media, where algorithms may (will!) block or throttle messages from being delivered.
Take a second and think about how magical this dynamic is: how much control you have that can't be taken away. There's no "de-platforming" with email because no one owns it.
As I said earlier, "email killers" have risen up to great fanfare over the years. We have no shortage of new ways to connect with one another.
And yet, none of these email killers have lived up to the hype and hoopla. 52 years after the first electronic message was sent, email trudges on as the workhorse of global communication.
As of 2021, there were approximately 4.3 billion email users worldwide, with more than 293.6 billion emails sent and received each day worldwide (by 2025, the number of daily emails sent is projected to increase to 376.4 billion).
In contrast, Facebook and Twitter combined make up just 0.2% of the emails sent daily.
Let that sink in.
20 Years Using Email Marketing Platforms
Before I get to why I use ConvertKit, a tool I can't recommend highly enough as the best email marketing platform for creators, I think it's important to establish some context about why I've landed on ConvertKit, and what came before it.
AWeber since 2003 (to 2013).4
AutoResponse Plus (a self-hosted solution) in 2005/06 (now called arpReach), which I used alongside AWeber. ARP was ahead of its time.
ConvertKit in 2013 (when it was still a sapling of a startup, earning less than $2,000/mo in MRR). But it was still too new to use properly, lacking the more advanced feature we take for granted today, so I kept my account and put a pin in it to return to later).
ActiveCampaign in 2014 (to 2016). While ActiveCampaign is an incredibly powerful service, I disliked core parts of it. Using it became untenable, forcing my hand to jump ship.5
Drip in 2016 (to 2019). Drip dropped an a-bomb on their early adopters on Jan 2, 2019, notifying everyone that prices were going up in twelve days, as they pivoted to going after the more lucrative e-comm segment and doubling their subscription price. Classy. A lesson in how not to treat customers.
ConvertKit in 2019 (almost unrecognizable from the earlier 2013 version!).
(2023) I still use ConvertKit because, while not perfect (I'll draw attention to the reason later in the review), it's as close to the perfect solution for a creator-business like myself. (And if it's good enough for the likes of Arnold Schwarzenegger, Tim Ferriss, Shane Parrish, Ryan Holiday, and James Clear — and scores of artists and musicians — then it's plenty good enough for my needs and probably yours too.)
I've broken the remainder of this review into a few sections that will draw attention to the most important elements of any email service and some of ConvertKit's unique features not widely known.
Let's get to it.
Prerequisites for any Email Service Provider
Over an above being able to send basic broadcasts (most commonly used to send email newsletters), the prerequisite features of any (any!) decent ESP are:
the ability to create email sequences (sometimes called campaigns or autoresponders) — the most basic expression of this being a Welcome Series (a handful of emails that welcome and orientate new subscribers into your world).
the ability to create if-this-then-that rules, and more sophisticated visual automations (when needed).
a simple but powerful email editor (with easily customizable mobile-responsive templates).
a robust API. (Very important.)
GDPR-compliant subscriber forms. (If you have customers in Europe, being GDPR-compliant is the law, not a request.)
world-class support that's reachable over email with 24-hour response time, normally same day (not just chat or a support forum, which ConvertKit also offers).
native integrations (that include Zapier and Make).
ConvertKit does all of these exceptionally well.
If you're considering any ESP that doesn't have all of the above, cross it off your list. You'll thank me later.
"Nice to have" additions are a good landing page builder. While I don't use this feature, I know many creators use the builder to quickly spin up opt-in pages that look great to capture subscribers and offer landing pages to capture revenue and can be easily built in about ten minutes.
The final category is one I don't (personally) care for. Still, I also understand why some ESPs like ConvertKit are pivoting in that direction, which is adding commerce functionality.
Thankfully, I don't believe ConvertKit has its sights set on challenging Keep, Ontraport, or HubSpot, which aren't platforms for creators like us.
From the beginning, ConvertKit has been fanatically creator-focused — building the best-in-class email marketing solution at a reasonable price, empowering creators to serve their audiences without the friction of needing to learn a complicated tool.
The learning curve with ConvertKit is minimal.
For this reason, ConvertKit now includes commerce baked right in (having access to Stripe is required).
For a single monthly subscription, you get best-in-class email automation, the ability to build landing pages, and capture revenue from your audience without needing a third-party shopping cart.
I guess I'm a "purest," caring more about wanting the single best email automation tool on the planet (doing one thing exceptionally well, with all resources supporting that single narrow vision).
But I get it…
Which is why I'm not a CEO of an email platform like ConvertKit. Because with a lens that's too focused, growth is throttled, opportunities limited, and in a ridiculously competitive segment, ConvertKit would quickly become uncompetitive, losing market share (and revenue), which isn't a winning proposition for anyone.
So if you care about (potentially) replacing your shopping cart — or consolidating your subscriptions — ConvertKit's commerce is worth considering.
Alright, time to move on to the features I love about ConvertKit (that are mostly unique to the service).
Why I Use (and Love) ConvertKit
Before writing this review, I looked at many ConvertKit vs. Mailerlite vs. Mailchimp vs. beehiiv (and Ghost and Substack) reviews…
Typing 'ConvertKit alternatives' into Google returns pages and pages of results for reviews of the best email marketing or indie newsletter tools.
Yet, most of them compare basic features, emphasizing price (which is pretty dumb, but I'll get to why shortly).
What follows are some of my favorite features of ConvertKit, most of which you'll not find in other similar-priced services or highlighted in other reviews.
1.
Firstly, it's fast!
Ridiculously fast. (I'm not a programmer, but it feels like they care about creating well-optimized code. I should ask Nathan, their CEO, about this because he was the programmer in the early days.)
Everything about it is snappy.
This may seem like a trivial feature not worth mentioning until you've used an ESP that's so sloooooow you want to kill yourself every time you use it (talking to you, ActiveCampaign!).
Everything about ConvertKit feels lightweight. As someone who cares about efficiency and speed, I love this.
2.
Deliverability.
Deliverability is a bit of a tricky beast, so I will give you my perspective based on having used a handful of ESPs over two decades.
I've read many independent email deliverability reports. Some have ConvertKit at the top of the list, others further down. But besides a very broad 30,000′ view, these reports do not help compare like for like. (Which is almost impossible to do.)
What's more useful is when a company is transparent about what's happening under its hood. To ConvertKit's credit, they publish their deliverability reports.
It's worth mentioning that ConvertKit uses an upstream provider, SendGrid — a leading email delivery service (used by Uber, Spotify, and Airbnb), to deliver their emails. Which is smart.
As I write this, last month, ConvertKit sent over a billion messages with a delivery rate of 99.73%. Digging into their reports reveals the cumulative details of their delivery metrics across their customer base.
For example, in December 2022, the average open rate of all emails sent through ConvertKit was 42% (anything over 30% is considered very high). The industry average, according to Campaign Monitor, is 21.5%. So this already gives you a signal of how well ConvertKit stacks up.
A side note about Open Rates: In June 2021, Apple announced sweeping new privacy protections across iOS15 and macOS Monterey. One of the implications of this change affects how ESPs track and report open rates. Litmus reports that Apple holds 58% of the email client market share (more than double that of Gmail).
It's worth recognizing that while open rates are not capital-A accurate, the metric is still directionally helpful in comparing one's email performance over an appropriate time horizon (an email campaign or promotion vs. a previous one, prospect segments vs. customer segments, etc.).
It's also worth noting that while the tracking of an email open can be blocked (for any number of reasons, not just Apple), a "click" on a link is trackable and accurate and can't be blocked (and contributes to the reporting of an email open). This is why I encourage engagement through the clicking of email links.
As an aside, our open rates at TLB are north of 55% when sent to everyone, and in the 80s and 90% for smaller targeted email campaigns and customer sequences.

I reached out to Nathan to understand more about what they do to maintain such high deliverability.
Nathan connected me with Alyssa Dulin, their head of deliverability and an industry expert (she hosts the industry podcast Deliverability Defined, which helps teach creators everything they need to know to reach the inbox).
Alyssa said they have an in-house, fully staffed deliverability and compliance team that supports customers, keeps emails sending smoothly, and has robust spam-fighting tools that keep their domain and IP reputation healthy.
They also have membership in prestigious industry groups like M3AAWG and healthy relationships with mailbox providers and blocklist operators.
Point is, ConvertKit has exceptional email deliverability.
Pro Tip #1: CK has made it very easy to verify your sending domain (binding SPF and DKIM records to your domain name), which you should configure as soon as you're sending more than 5,000 emails per month.
Pro Tip #2: Never send bulk emails from a "free" or disposable email address. For example, something@gmail.com (Yahoo!, or any other disposable email). That's a red flag. Don't do it. The Email Gods will rain down fire and fury upon you and destroy your email deliverability.
3.
ConvertKit uses an open-source templating language called Liquid created by Shopify. To my knowledge, only Drip and ConvertKit use Liquid.
While pretty much every email platform allows you to personalize your emails with simple merge tags — typically the subscriber's first name (Hey %FNAME, for example) — it's pretty limited.
With Liquid, however, what you can do borders on magical.
Powered by Liquid, conditional content takes things to another level. For example, an email newsletter sent to all your subscribers can use conditional content tags to show different content snippets based on what courses or products someone owns (or doesn't).
For example, if someone already owns "Thing 2," you can show them a targeted offer for "Thing 3." Or if someone doesn't yet own anything of yours, and, say, based on some previous automated "surveying" efforts you've done (high five, you!), you know what type of creator they are (author, YouTuber, musician, knowledge worker, podcaster, etc.), allowing you can pitch them on "Thing 1," but also frame your messaging from a perspective that talks directly to their use case. (This is ridiculously powerful, btw!)
Conditional content is a "magic box" limited only by our creativity.
What's more, albeit somewhat more advanced, Liquid templating can be used within automations to perform calculations (like count how engaged someone is, then trigger an automation to reward them), write data to custom fields (like when someone purchases "Thing 1"), or perform more powerful conditional logic trees.
The Liquid templating engine is a superpower ConvertKit has over its competitors, and it's not a trivial feature. You can thank me later.
4.
While some, but certainly not all, of ConvertKit's competitors offer some kind of visual automation, ConvertKit has what I think is an underrated superpower.
ConvertKit's visual automation builder is beautiful and works incredibly well, but it's not what I turn to in most cases.
Long before they created their visual automation builder, automations were performed with a simple but powerful rules engine.
If THIS, do THAT.
Example: If a subscriber clicks "this link," then send them to "this URL," add "this tag," and subscribe them to "this sequence."
Boom. Easy. Quick.
When they launched their visual automation builder a few years ago, they didn't "sunset" their rules engine.
With other services, the visual automation builder is the only option for simple and more complex workflows.
But with CK, you have a choice of workflows.
What's not to love, right?
5.
Content Snippets is a way of "injecting" content into an email (or emails), but in a way that allows you to easily edit the snippet independently.
(This is especially handy when a single content snippet is used across many email sequences.)
You can use this for promotions, call to action, testimonials, P.S. rabbit holes — whatever.
And, of course, combining conditional content with snippets gives you a powerful way of building engaging email experiences.
6.
In 2019 after experiencing the pain of a platform giving the bird to their early adopters (looking at you, Drip), I was sensitive about choosing a service that wouldn't do the same.
Nathan's relentless pursuit of supporting creators of any size is embodied in the DNA of ConvertKit. It's impossible not to see, feel, and experience this.

This was the single most important factor for me when I migrated over to ConvertKit in 2019. Points 1 – 5 were all a bonus.
If you're a creator and care about using a tool made by creators, ConvertKit is the inevitable choice.
In a blog post on Nathan's personal website, he said this about what they (ConvertKit) released in 2022: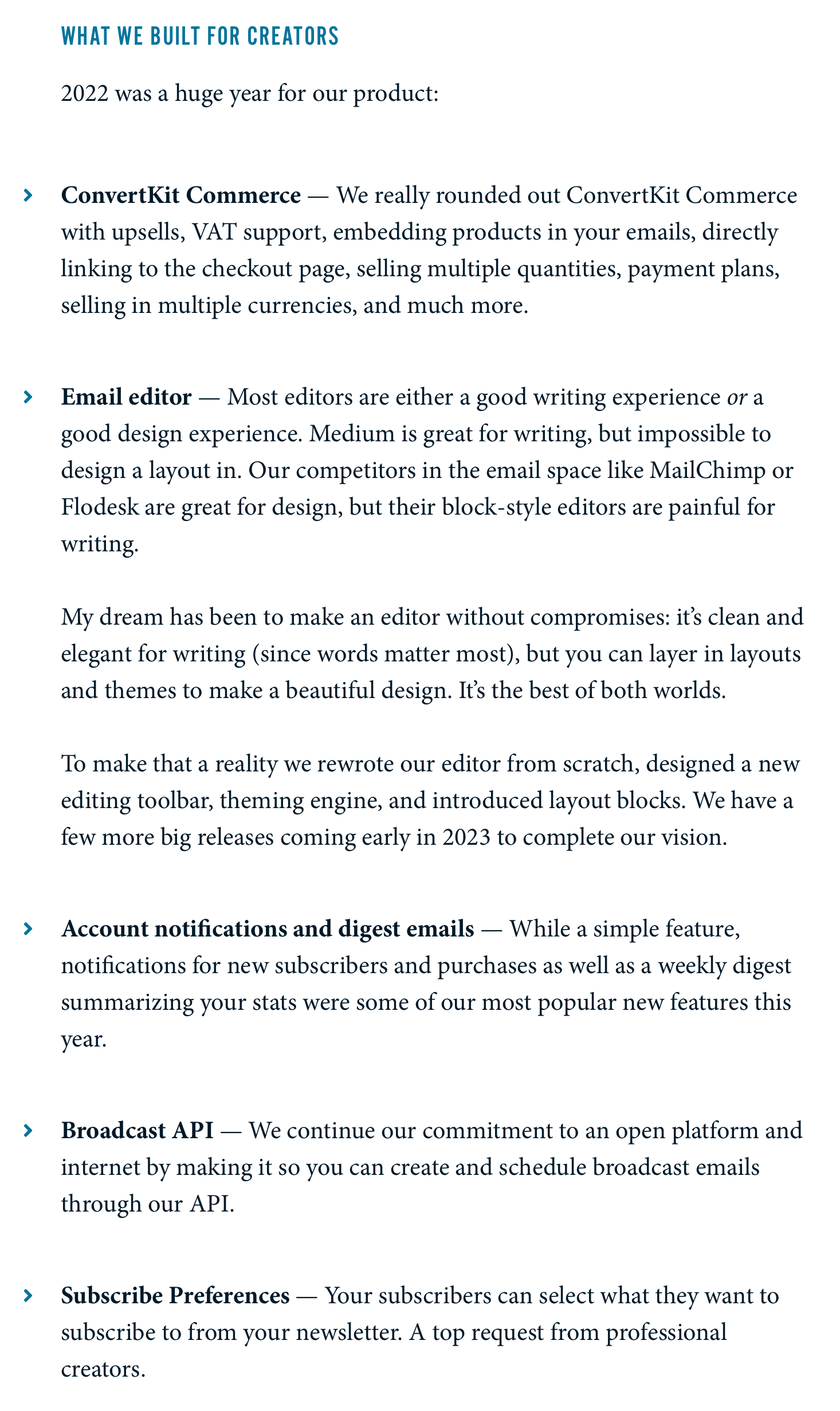 Anyhoo…
Now that I've highlighted some of what I love about ConvertKit, there is a negative I can't pretend doesn't exist.
What I
Don't

Dig About ConvertKit

I'll conclude this review with my perspective about price (and why evaluating based on price for an email tool is a terrible idea), but before I do, I have to warn you about their free plan (and launch into a rant — brace yourself!).

To be clear, I'm doing myself no favors in drawing attention to this because I earn a small commission when I refer a customer who signs up to ConvertKit.

But it's more important to me to be honest about how I feel about their free plan. I've circled the problem in red below.

There are no automated email sequences with the free plan, which, from my perspective, makes the free plan unusable.
The implication of this may not be obvious to you. If that's the case, buckle in for a rant…
I told myself, André, don't get on your soap box. Just state your case and move on. But no, of course, I couldn't just do that…
In 2009 I created what many people have said is the best email marketing course available (to be clear, this isn't a claim I made). It's been through four editions and a name change over twelve years (formerly AutoResponder Madness, then completely rewritten in 2021 with my business partner, Shawn Twing, and called Art of Email).
The workhorse of any good email system — the engine! — is the ability to trigger just-in-time email sequences that deliver the right message to people demonstrating intent, moving in our direction by raising their hand for more of what we have, to experience and journey deeper into our world.
That's a beautiful thing when you think about it for more than ten seconds.
But image ignoring this dynamic? (This is what ConvertKit's free plan enforces by implication.)
As I wrote in an essay called The Invisible Conversation, attention is a resource we need to treat with care and respect:
As knowledge workers, creative professionals, influencers, and thought leaders, when performing the sacred act of serving an audience, our most valuable resource is attention.
The most basic expression of an email sequence is a Welcome Series (or something I call a Relationship Building Series).


But you don't have access to this most fundamental feature with the free plan. The implications of this have no upside, no golden lining.
Because I'm already this deep into my rant, I'll double down and soldier on…
Think about this:
Someone lands on your landing page and reads about you, your business, and how you can help solve or alleviate a problem they have.
Your value proposition perfectly aligns with the reader's needs, compelling them to join your email newsletter.
They opt in, confirm their subscription, and then…
Nothing.
… just the chirp-chirp of crickets.
No welcome sequence is triggered. No relationship-building takes place at the precise moment they've given you their attention.
Until, of course, you happen to send a broadcast (which is included in the free plan). Which could be days or even weeks later.
Hello?!
In the twenty years I've been sending emails to prospects and customers, fostering direct relationships through email, this makes no sense on any level!
Having done the hardest part of converting a stranger into an email subscriber, where they've given you their attention and their trust, and in that narrow window of opportunity that comes with a short half-life, you do absolutely nothing at all.
Anyhoo…
I'm going to climb off my soap box now. Deep breaths, André…
For this reason, I can't recommend their free plan.
At a minimum, get their Creator plan. It's inexpensive for what you get (and is everything you need).
Plus, you get to do cool sh$t as I've illustrated below:

An RBS is our upgraded "welcome series," for example, five emails that gently introduce a subscriber into our world, connecting with them, demonstrating empathy, and building rapport — implicit in this interaction, authority is established.
This dynamic is a sacred act that can't be short-circuited.
The second layer of the above illustrated is a soap opera series, an email campaign triggered by an explicit "hand raise" (clicking a trigger link).
(This can't happen with the free plan.)
A 'soap opera series' is a conceptual container or a delivery vehicle of a short email-driven experience about something specific. (Somewhere within the context of our RBS could be triggers for the SOS.)
One of many expressions of an SOS could be a "Showcase Series," which unpacks the merits of a product or service across an interesting dimension (this is not a hard promotion), respectfully taking an interested prospect on a journey about something that matters to them.
One way to think about an SOS is that it's like a "trojan horse," but from a value-driven perspective, "enhancing" a (potential) downstream sales opportunity but never emphasizing a sale.
Generating customers is an emergent property of building relationships with our audiences through modern email marketing.
Because we're playing the infinite game, when a prospect becomes a customer, we send them an onboarding series (COS), which allows us to take our new customer down a rabbit hole that inspires trust and builds attention for the long term in a way that is incredibly durable.
For this reason, get any of ConvertKit's paid plans — Creator or Creator Pro — but please, for the love of God, don't try and "do business" with their free plan.
You'll be shooting yourself in the foot.
This leads me nicely to the topic of pricing and (another) grip I have with almost all the other reviews I've seen, which all emphasize (and compare) ConvertKit's paid plan pricing with their competitors.
In this context, ConvertKit is more expensive than Mailerlite, for example. But pound-for-pound ConvertKit is also a better tool.
Choose the best tool for the long run, not a short-term stopgap, telling yourself you'll "move" later. Seriously. Don't do that.
Truth about Pricing
Email done well is never an expense! It's ridiculously profitable, so picking a platform based on price alone, is a terrible idea.
If email is the primary way you communicate with your audience and make money, email is not an expense. It's the world's most lucrative marketing method.
Read that again, and let it sink in.
There's no higher ROI marketing method than email. It blows everything else out of the water.
For $9 a month (ConvertKit's cheapest paid plan when paid yearly), you're in business and can do everything you need without the dumb constraints of the free plan.
As I listed at the top of this review, I've moved providers more times than I care to admit. The switching cost of moving to a new email service provider is not a trivial one. It's painful, especially if you have lots of tags, automations, and email sequences in play.
Pro Tip: If you are already using another platform and want to move to ConvertKit (smart move!), subscribe to their Creator Pro plan (the one I use), and their team will do a complete soap-to-nuts migration for you for free.
If you still have questions before signing up to ConvertKit — or if you are now considering migrating to CK — shoot me an email, and I'll be more than happy to help.
André